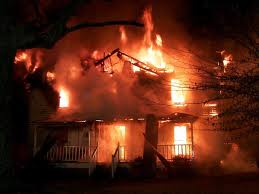 The key to restoring a property affected by fire damage is quick response. Fires wreak havoc and as smoke lingers and properties continue to sit on damaged foundations, the issues only get worse. Restoration takes the work of trained professionals.
In order to mitigate damages, trained fire restoration experts must assess damages and make calculated decisions on repairs. The team at Champion Restoration Experts is IICRC certified to clean and restore your property and ease your mind. We work tirelessly to not only clean, but also to restore your property back to its original state. We work with you and your insurance company to manage the process of removal and construction of homes affected by damage from fire.
What is Fire Damage
Over 350,000 homes are affected by fire damage each year, according to the National Fire Prevention Association. This damage accounts for over $6.9 billion in direct damages. Cooking and smoking are the most frequent causes of the damage dealt to houses by fire.
Fire damage is any damage or destruction caused to a property during a fire. Fires destroy properties by burning the structure until it is no longer safe to inhabit. Properties damaged by fire face a number of unique challenges. Alternative forms of damage often subsequently affect them. Smoke damage is one by-product of a fire.
Smoke is produced amidst the gases during a fire. These gases often linger even once the fire has been put out. Smoke can leave behind a very evident scent and discoloration in your property, but its effects are much greater than aesthetic. It can also stick to your walls and get inside plumbing and pipework, causing serious respiratory and allergic threats to people and animals exposed to it. Understanding how to repair smoke damage takes trained professionals who are knowledgeable in where smoke damage lives and how to safety remove it.
Water damage is another frequent, but less expected issue caused by fires. In the process of putting out a fire, fire departments often pump out 250 gallons of water per minute. Although the water can potentially save your property, it can also severely damage your belongings. Clothing, furniture, and other belongings can sit untouched for days following a fire. This time could be enough to allow mold to form inside while the property sits. Mold has the potential to be very dangerous. Mold spores can be a health hazard to humans, affecting indoor air quality which causes allergic reactions and respiratory problems.
Fire Damage Restoration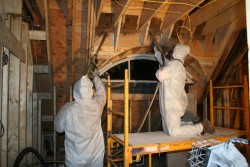 Being a victim of fire damage can be one of the most challenging and overwhelming experiences a person has to deal with. With so many new questions to answer, you want to know that you have the right team on the job to repair the damages caused during your fire. Understanding the process can help you make informed decisions about what is right for you.
The first step to repairing a fire damaged property is to have an expert team come in to board up the property. Securing the building will not only prevent further damage, it will protect your personal belongings and deter thieves. Board ups involve putting tarps on a roof, boarding windows, doors, and holes in walls. It also involves bracing the walls or floors to add structural strength. Champion is on call 24 hours a day to ensure that your property can be protected following a fire.
The next step is understanding how well the support around the house remains after the fire. Our experts must examine the wood structure under the floors and around the house in order to determine if they are fit to carry everyday weight. In order to understand this we examine and wire brush the 2X4's under the floor to see the extent of the damage. If it is determined to be minimal, we will seal any areas that did receive damage to add support, otherwise these will need to be replaced.
The final step in the process involves eliminating the smoke damage that routinely occurs due to fires and rebuilding any damage to the structure. In order to eliminate the odor caused by smoke, Champion relies on powerful ozone generators to freshen the air and ensure that you no longer have to smell the remnants of a fire once you return. Our team also deep cleans your walls and carpets to achieve the odor removal throughout your house with special chemicals to eliminate the odor.
Champion is also available to rebuild parts of the structure that are damaged by a fire, a factor that sets us apart from the competition. Our team of IICRC certified professionals have the tools of the trade and experience with fire damage. We have been repairing fire damage in NJ, PA, and DE since 2005. Contact us today for FREE CONSULTATION and to have our emergency relief specialists repair and restore the fire damage in your home.