Mold damage is triggered by moisture in the air that spreads and grows rapidly once established. Generally, mold grows in moist conditions in temperatures between 62° – 78°. Extended exposure to mold spores can be a health hazard to both humans and pets, affecting your indoor air quality which can cause severe allergic reactions, respiratory problems and potential long term health conditions.
What is Mold Remediation?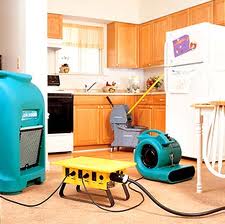 Mold remediation is the process of identifying and removing mold that accumulates. Mold living in your property can be extremely dangerous. Remediation requires the care and attention of an experienced team trained to properly remove mold and the spores so there is no continued growth and property damage.
There are a number of techniques used in removing mold damage in a home or property. It is important to properly identify and remediate mold at its source. Properly decontaminating materials affected by mold is the only way to eliminate the problem. The first step is assessing the the area to determine if and where mold is indeed present. This involves careful inspection of the property and examination to determine the sources of mold.
Once identified, samples can be taken to determine the strand of mold present. This will identify the level of spores to decide whether or not non-visible mold exists on the property. Proper remediation may require a number of treatments, including quarantining, heating, ventilating and/or insulating an area of the property to properly remediate the damage.
Mold Damage Removal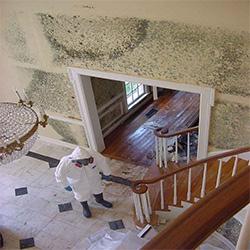 Mold damage removal requires an immediate response due to the dangers prolonged mold build up can bring. Attempting to remove mold on your own can be hazardous to your health and will most likely not effectively remove l the source of mold.
Champion Restoration Experts takes the appropriate steps to identify the source of mold and remediate any growth source. We first seek to identify the source of the moisture which is frequently found within bathrooms, basements and unattended leaks that have been left to settle for 72 hours of more. In order to ensure the safety of those living or working around mold, a section and/or possibly the entire area may have to be quarantined while inspection and the remediation process begins. Once mold is introduced, no area of the house is safe and we ensure your property is thoroughly checked and treated.
In order to remove mold damage, the IICRC offers 5 principles:
1. Make sure safety and health precautions are taken by cleanup professionals and occupants. Mold-contaminated buildings can be associated with a number of health problems. Anyone involved in the mold remediation process must be protected from exposure through a combination of practices and controls.
2. A post-cleanup assessment by an independent environmental expert is extremely recommended in order to keep your property fit for healthy living conditions . An effective mold remediation cannot be developed without first determining the extent of the contamination to be removed.
3. It is imperative to attempt to control mold and spore growth before it spreads further. Eliminating mold at the source of contamination is essential. Once mold spores spread through the air, it will be much more difficult to capture.
4. Seek out trained professional to oversee the proper physical removal of the mold. Attempts to isolate mold or remove signs of mold on the surface are not adequate. For example, even strong chemicals like bleach cannot kill mold. Champion Restoration utilizes best practices and state-of-the-art procedures to identify, treat and remove mold to stop growth in its entirety.
5. Ensure that moisture is controlled to limit future contamination or recontamination. Mold growth is virtually inevitable if moisture is not controlled. Moisture problems must be identified, located and corrected and controlled as soon as possible.
Champion Restoration Experts has trained IICRC professionals who are trained to eliminate dangerous mold from your home or property. We have been remediating mold damage in NJ, PA, and DE since 2005. Contact us today for a FREE CONSULTATION and to have our emergency relief specialists repair and restore the mold damage in your home.